Concierge service
Take advantage of our concierge service
---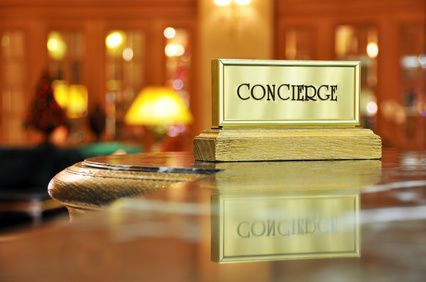 Just like the concierge service offered in the best hotels, the professional and discreet team at In Sarlat ®, will attend to all your requirements in order to provide you with an exclusive impeccable service.
At In Sarlat ® we are committed to making your holidays a pleasurable and relaxing moment by ensuring that your stay as easy as possible.
Our expertise and availability will make your stay in Sarlat unforgettable. We will be on hand to answer your requests in our offices from Monday to Saturday and in the event of an emergency we can be reached by telephone on Sundays and in the evening after 7 p.m.
With no extra charge we will take care of all your requests such as :
Taxi reservations for your arrival or departure or during your stay
Reservations for a restaurant, show, visit to a cave or chasm
Appointments at beauty salons or relaxation spas, medical appointments
Reservations for outdoor activities such as hot air balloon flights, canoe or kayak excursions
Tourist itinerary planning and practical solutions if you do not have a vehicle
Organisation of room service and/or household linen (supplement).
Don't hesitate to call on us, we will do everything possible to satisfy your demands!
Our service promise for your well-being in Sarlat!
---
To satisfy our demand we promise to :
Present you with a selection of carefully chosen and well-maintained holiday rentals to let you experience Sarlat from the inside,
Make it easy for you to find our offices by sending you a map showing how to get there and where to park
Welcome you personally in our offices,  in French or in English, during your stay  and provide the added security of a  telephone answering service 7 days a week,
Satisfy your requirements  thanks to our reliable and responsive service
Remain at your service. With your satisfaction in mind, we will send you a client questionnaire after your departure. Please take time to answer it because ensuring your satisfaction is the basis of our work.